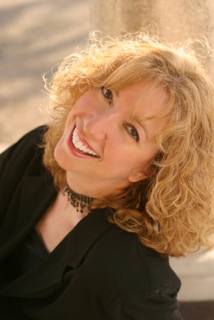 Stacy Beyer has been writing music since the age of 7. Graduating college at 19, she's worked in a vast array of areas of the music business, from studio musician to producer, composer to vocalist,arranger to conductor.
A native New Yorker, Stacy is so grateful for every opportunity that comes her way to write, sing and produce music for film, TV and the recording industry. Her "Sing a Song for John" was used for network coverage of the first vigil in memory of John Lennon. Months later, having met Merle Haggard when she appeared on the late night TV talk show, The Tom Snyder Show, Stacy began to travel to Nashville, at Mr. Haggard's suggestion. Cultivating life long friendships in Tennessee, she eventually moved to Music City, beginning a career writing songs for EMI Publishing. Her #1 song in Australia, "Dancin' With Elvis", co-written with hit songwriter, Ron Harbin stayed at the top of the charts for 16 weeks and won artist Gina Jeffreys' CMT Video of the Year.
As her relationship with the Nashville Jewish community blossomed, Stacy began writing and performing original songs for a variety of congregational and community events. In 2001, she recorded her first of 4 CDs of original Jewish music. Having been on tour for 17 years, her Jewish music has found its way into congregations around the world. Some of her Chanukah songs have been performed by the Nashville Symphony and recorded by Warner Brothers Records. In 2013, Time.com named Stacy one of the 10 Stars of New Jewish Music. She wrote and produced The Candle Blessing Project, amassing over 60 powerful voices in Jewish contemporary music, in honor of the Religious Action Center. Her music is part of compilation CDs for the URJ's Ruach series, PJ Library and more. In March of 2016, Stacy performed her song, "She Has the Right" for the UN's 60th Session of the Commission on the Status of Women", in New York. Since then, she has become a political activist, part-time lobbyist and is writing new music to inspire and bring about change. One of those songs, she presented to Congressman John Lewis In May, 2017. Entitled, "Good Trouble", based on the Congressman's well known phrase…"Get in good trouble, necessary trouble", Stacy has released a music video for the song, to inspire and give hope and strength to those concerned about the current state of affairs in our country. The lyrics contain powerful statements directed at elected officials. In December of 2016, Stacy and her colleague, Beth Schafer launched an online Facebook group called, Harmony in Unison, which offers live streamed original music, 5 nights each week. Within three months, membership blossomed to over 11,000. Today, at nearly 15,000 members and over live 180 performances archived, HIU continues to bring people together through music. The community building aspect of this adventure is truly the biggest blessing to have come from the project.
 Stacy is honored and humbled to have had the opportunity to co-produce the 8 songs from Together as ONE with Peri Smilow. And she greatly appreciates each of the artists on the project for their trust in producing these works of art.